Fr, 15.9.2017
Report about our excursion to the "Literaturfestival Berlin"
where Angie Thomas presented The Hate U Give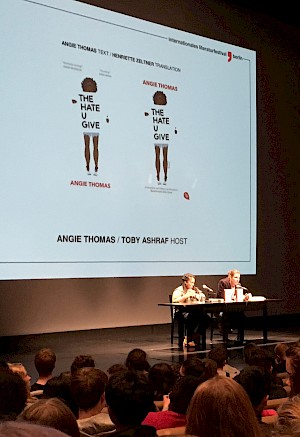 On Friday the 15th September we visited the "Haus der Berliner Festspiele" with our English basic class and our teacher Mrs. Perick on the occasion of a reading given by Angie Thomas. She presented her book The Hate U Give, which is recommended on the New York Times bestseller list, and in this context she gave an interview. Our class was not the only class attending the reading but many other classes were present.
The interviewer was Toby Ashraf, a sympathetic staff member from the team of the "Literaturfestival". Ms. Angie Thomas presented herself as a self-confident, friendly and strong woman. She presented her point of view as confidently as her protagonist's views in her novel.
The presentation of her book was more like an interview with questions from the host and from the visitors. We did not expect Angie Thomas to only read a very short part of her book as she did. Her reason to do so was that – as she said – she was not able to pay attention for a long time as the most Americans. With comments like that and jokes she made the visitors laugh and created a harmonious atmosphere between her and the audience.
Following the interview was very easy and more interesting than we thought! She spoke in detail about the "Black Lives Matter"-movement and their aims, about which we did not know much before.
Finally we can say that it was a successful visit and we enjoyed it.
Hanna Groß and Katerina Hemmo, GK 11 (En)